2017-18 Club Planning Meeting / Officer Orientation
Thursday, May 11, 2017 at 6:00pm
Rudy's BBQ in Harker Heights
This is a great chance to see what we have planned, get an update on the status of the club, and help with new ideas as we continue to seek to expand the impact our club has on our local Aggies and our community.
Dave South Luncheon
Friday, August 4, 2017 at 12:00pm noon
Texas A&M University – Central Texas
$10 for lunch, payable at the door
Come hear from "The Voice of Aggieland" and join fellow Aggies in getting pumped for the 2018 Fightin' Texas Aggie football season!
Hood Howdy on Fort Hood
Friday, August 11, 2017 from 10:00am – 2:00pm
Club Hood, 24th Street and Wainright Drive
Come see our booth at Hood Howdy! Free stuff and more info about all our awesome club and fun events! Plus, get an appetizer ON US if you stop by our booth then join us at the Hullabaloo Happy Hour that evening. Click the flyer below for more info on the event: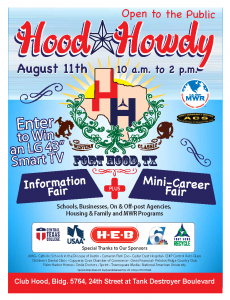 Hullabaloo Happy Hours
Friday, August 11, 2017 at 5:30pm
Chili's at Fort Hood, Texas
Our next Hullabaloo Happy Hour will be after the Hood Howdy event on base! Stay tuned for more details on our next Happy Hour! These get togethers are a great way to meet and network with other local Aggies.
2nd Annual Football Tailgate
Saturday, November 4th at Time TBA
Aggie RV Park, West Campus across from Bush Library 
$5 for food and beverages
BTHO auburn! Kick it with other local Aggies who are in town for football gameday! Pre-game with us until the game starts or hang out during the game – TV provided!
Game Watching Parties
Sep 3 @ ucla
Oct 14 @ florida
Nov 18 @ ole miss
Time and locations are TBA! Check back for updates soon.
Join us as the Aggies BTHO the 2017 shedule! We will gather to watch the above listed road games.
Big Event
The 4th Annual Killeen-Fort Hood Big Event is TBA.
This is an awesome opportunity for local Aggies to give back to our community. Check back for more information on date, time and location. Want more information on Big Event? Visit their website here.
Aggie Muster
Saturday, April 21st, 2018 at 6:00pm
Texas A&M University-Central Texas
$20 for dinner and club membership, payable at the door
Muster is celebrated in more than 300 locations worldwide! The largest ceremony takes place on the Texas A&M campus in College Station, Texas. Muster is how the spirit of Aggies before us is remembered and celebrated. Century-old roots provide the basis for Muster as Aggies know it today. It has changed, yet the Spirit in which it was established remainds the same. This ceremony brings together more Aggies worldwide on one occasion than any other event.